Lifetime Achievement Award 2022
Hartmut Glaser Receives the 2022 Lifetime Achievement Award
6th October 2022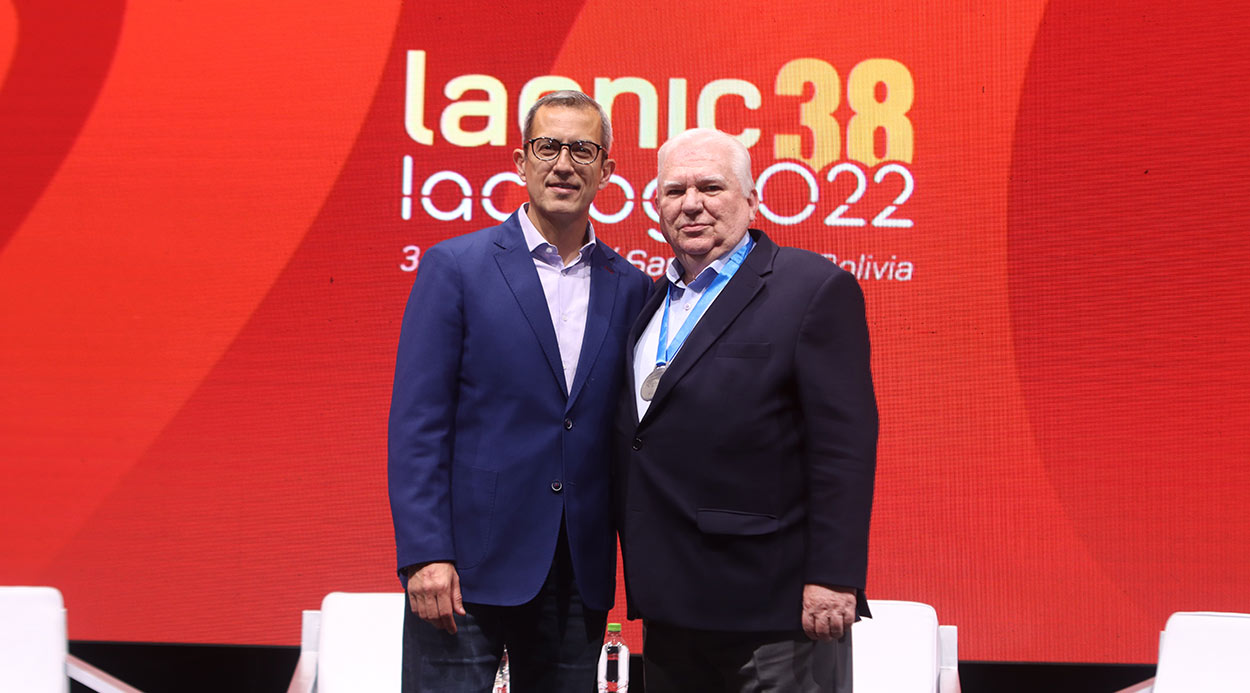 LACNIC CEO Oscar Robles presented Hartmut Glaser with the 2022 Lifetime Achievement Award during the LACNIC 38-LACNOG 2022 event, which is being held in Santa Cruz de la Sierra, Bolivia.
During the award ceremony, Robles noted that "Hartmut's dedication, determination, international vision, and commitment to multistakeholder models have been an invaluable contribution to the construction of regional communities and Internet development in Latin America."
Hartmut Glaser is a Brazilian native who has been recognized in his country and the region for his outstanding experience in the creation and consolidation of national and regional Internet processes, as well as for promoting and strengthening the region's presence within the global Internet community and promoting programs for bringing young people into Internet governance. Glaser has spent the last 25 years working on collaborative projects that have had an impact on the creation of institutions, the development of community and infrastructure, and the dissemination of knowledge. He is currently the executive secretary of the Brazilian Internet Steering Committee CGI.br, a multistakeholder entity responsible for all Internet activities in Brazil.
His relationship with LACNIC dates back to the organization's inception. He served on the LACNIC Board until 2018 and has always been a faithful promoter of the collaborative Internet model in Latin America and the Caribbean.
He is a reference in Brazil and in various groups that are part of the Internet ecosystem, including academic networks, LACTLD, LAC-IX, LACNOG, and others.
This year, the Selection Committee was comprised of Alejandro Guzmán, Carolina Aguerre, Christian O'Flaherty, Max Larson Henry, Bernadette Lewis, Edmundo Vitale, and Lito Ibarra.
The Lifetime Achievement Award was created by the LACNIC Board in 2009 to honor professionals who are part of the Latin American and Caribbean Internet ecosystem and to advance values ??such as collaboration, innovation, and the promotion of a common vision for Internet development across the region. Since its first edition in 2009, the Award has been presented to 20 leaders from 13 different countries in the LAC region.