Lifetime Achievement Award 2014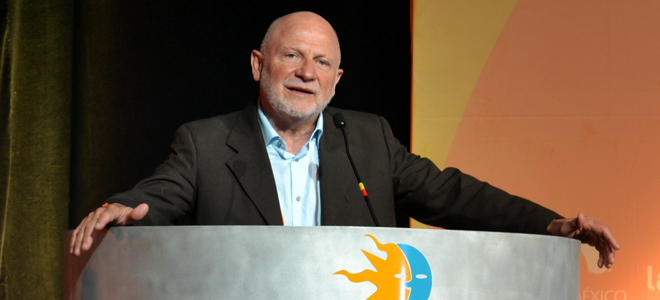 Ermanno Pietrosemoli
Today, Italian engineer Ermanno Pietrosemoli was presented with the 2014 Lifetime Achievement Award during LACNIC21, "Building the Future of the Internet: Security, Transparency and Participation," held in Cancun, Mexico.
Since 2009, LACNIC honors those individuals who have permanently and significantly contributed to the development of the Internet and the Information Society in the region of Latin America and the Caribbean.
This award seeks to promote and articulate collaborative efforts throughout the region and to recognize those who have made significant achievements that are relevant to the Internet community.
The selection committee chose Pietrosemoli, President of the ESLARED Foundation (Latin American School of Networks) to receive the 2014 Lifetime Achievement Award for his contribution to the development of the Internet in the LAC region.
Ermanno has been one of the most active participants in building the Latin American Internet community, thanks to the immense amount of work he has carried out during more than 20 years of WALC workshops that have allowed training thousands of experts throughout the Latin American and Caribbean region.
Ermanno has also taught courses on Networks and Telecommunications in Argentina, Benin, Bolivia, Brazil, Colombia, Ecuador, USA, Spain, India, Indonesia, Italy, Kenya, Mexico, Peru, Dominican Republic, Trinidad, and Uruguay.
Pietrosemoli has also had outstanding achievements in wireless network research. Among other things, he holds the record for long range data transmission and has published studies such as "Wireless Networks for Latin American and Caribbean Development," which he co-authored with Liliana Chamorro in 2008.
He has also installed high-speed wireless networks in Argentina, Ecuador, USA, Spain, Italy, Malawi, Nicaragua, Peru, Trinidad, and Venezuela. In addition, Ermanno served as adviser to the president of CVG Telecom between April 2005 and April 2006, and was the academic coordinator of project TRICALCAR (Weaving Community Wireless Networks in Latin America and the Caribbean).
In November 2008, the Internet Society (ISOC) presented Ermanno with the Jonathan B. Postel Award to honor the EsLaRed Foundation for its contribution to human resource training and Internet development in Latin America and the Caribbean.