Lifetime Achievement Award 2017
José Clastornik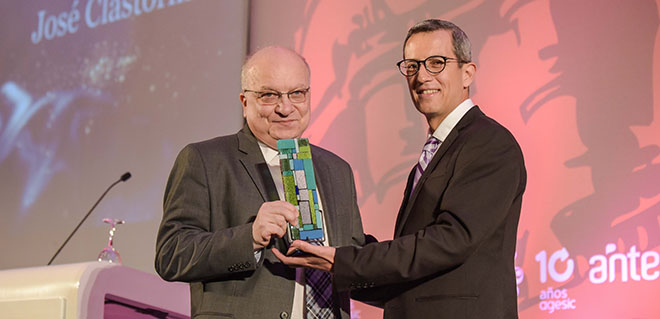 A panel of international jurors selected José Clastornik as recipient of the 2017 LACNIC Lifetime Achievement Award for his contribution to Internet development in Latin America and the Caribbean.
Today, the Latin American and Caribbean Internet Address Registry (LACNIC) presented noted Uruguayan engineer José Clastornik with the 2017 Lifetime Achievement Award for his contribution to the development of the Internet in the countries of Latin America and the Caribbean
Clastornik received this award for his ongoing efforts to promote equitable Internet development in the region, especially in Uruguay, the country where he heads the e-Government Agency (AGESIC). The Award was presented within the context of the LACNIC 28 / LACNOG 2017 meeting, which brings together regional Internet leaders, this time in the city of Montevideo.
LACNIC CEO Oscar Robles stressed that the organization is proud to present the award to a person such as Clastornik.
The Lifetime Achievement Award was established by the LACNIC Board to honor those individuals who have long devoted their efforts to the development of the Information Society in the region and whose achievements have set an example for the rest of the community. Since the award was launched in 2009, seventeen Latin American personalities have received this honor. This award also seeks to honor those who have made significant contributions to the Internet community.
In 2017, Lifetime Achievement Award jurors included Ida Holz, Rodrigo de la Parra, Rafael Ibarra, Ben Petrazzini, Serby Wilson, Carolina Aguerre and Jesús Martínez.
Following an extensive process, jurors selected José Clastornik after evaluating all nominated candidates based on five criteria: impact, innovation, scope, experience and influence of their activities.
Clastornik has an extensive track record. He is currently Executive Director of AGESIC, the Uruguayan Agency for e-Government and the Information and Knowledge Society, which reports to the Uruguayan President's Office. Working with this Agency, he has promoted policies and coordinated efforts aimed at implementing Information and Communication Technologies at public administration level.
The impact of his work and leadership reaches multiple spheres, from national to regional and international.
Clastornik serves on the Boards of the Personal Data Protection, Access to Public Information, and Electronic Certification Agencies; the Plan Ceibal (one laptop per child and per teacher) Political Commission; the Government Contracting and Procurement Agency; the International Conference of Data Protection and Privacy Authorities Board, and the ICANN Government Advisory Committee. He is also President of the Coordination Bureau for eLAC, the Digital Agenda for Latin America and the Caribbean.
Click here to watch a video of J. Clastornik receiving his award.