Lifetime Achievement Award 2011
Selecting the regional personality that will receive each year's LACNIC Life Achievement Award represents a great challenge for the Jury. The nominations received both this year and in 2010 mean that they have had to choose from among many excellent candidates, all of whom have made relevant contributions to the development of the Internet throughout the continent. However, this time the Jury was able to reach an agreement quite quickly. After a careful analysis of all nominations, the Jury unanimously decided to present the 2011 Life Achievement Award to Florencio Utreras of Chile.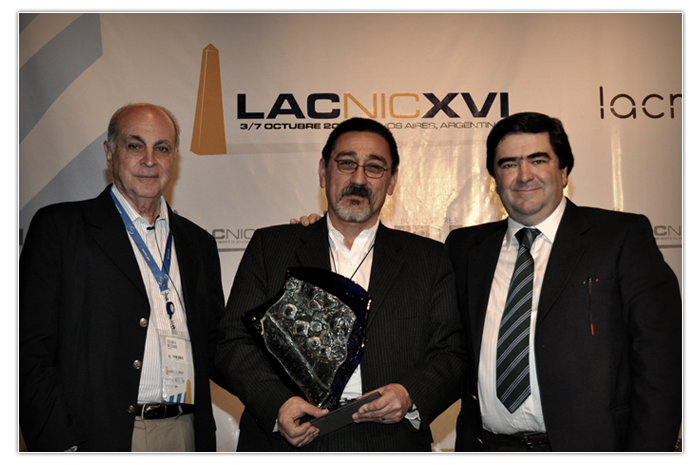 FLORENCIO UTRERAS (Chile)
Florencio Ignacio Utreras Díaz has been the Executive Director of CLARA – Latin American Advanced Networks Cooperation since 2004. He has a degree in Mathematics and Engineering from the University of Chile (1975) and a PhD in Engineering from the University of Grenoble, France, which he received in 1979.
Since his graduation, Florencio has participated actively both in his country as well as throughout the region, initially as a lecturer and later focusing on what would become his core activity – building computer networks to help develop academic knowledge and research.
He was professor of Applied Mathematics at the University of Chile in Santiago and visiting lecturer in various universities and research centers in Europe (Université Joseph Fourier, France; Universitá di Firenze, Italy) and the United States (Miami, UCLA).
Florencio has been involved in network research since 1987 and has received several awards for his contribution to the dissemination of Internet technology and research networks. He played a key role in connecting Chile to global computer networks, leading the incorporation to Bitnet in 1987 and coordinating the FONDEF Project for strengthening the National University Network that allowed creating a 64-kbps link for REUNA members in 1992. In 1997 he promoted a strategic alliance between REUNA and CTC Mundo (currently Telefonica), which allowed creating REUNA2 – a broadband network from Arica to Osorno, at the time considered to be the largest in Latin America.
In 1992 he contributed to the creation of REUNA (the first Latin American and Caribbean academic network), was part of the first CLARA Board of Directors, and later competed for the position of Executive Director which he assumed in 2004 and from which he is making an invaluable contribution to the connection of all academic networks in Latin America and the Caribbean.
Among the positions and roles he has held in various organizations and institutions that promote Internet development, his participation in the organization of the INET 96 and INET 97 international seminars held in Montreal, Canada and Kuala Lumpur, Malaysia, respectively, are worth highlighting. In addition, Florencio has been President of the National Organizing Committee for the ICANN Meeting held in Santiago, Chile in August 1999, where the regional community presented the application for the creation of the new Regional Internet Registry, LACNIC.