Lifetime Achievement Award 2016
Alejandro Pisanty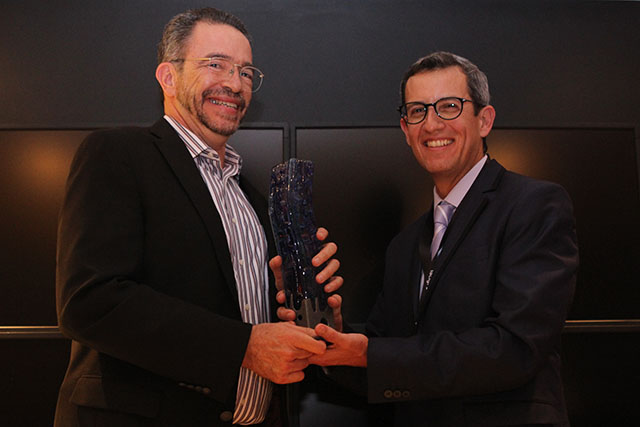 The 2016 Lifetime Achievement Award judging panel has selected Alejandro Pisanty as this year's award recipient for his contribution to Internet development in Latin America and the Caribbean.
The Outstanding Achievement Award was created by LACNIC in 2009 to promote and articulate collaborative efforts in the region. This recognition is awarded to individuals who have devoted their efforts to Internet development in the region and whose work has become an example for the rest of the community.
In 2016, the judging panel was made up by Ida Holz, Rodrigo de la Parra, Rafael Ibarra, Ben Petrazzini, Carolina Aguerre, Serby Wilson, Elgeline Martis, and Jesús Martinez.
Pisanty has been very actively involved and made valuable contributions through various international organizations and forums such as the ICANN Board, the ISOC Mexico Chapter, UNAM (the National University of Mexico), CUDI (the University Corporation for Internet Development in Mexico), and MAG (the Multistakeholder Advisory Group).
Alejandro has contributed to the expansion of the Internet and digital services such as Internet 2 projects and online election systems. At CUDI, he accompanied the creation of the academic network, which currently brings together more than 170 institutions, playing a key role in the promotion of Internet development in Mexico. Working at UNAM, the professor and his colleagues led various efforts to promote security initiatives, thus driving the growth of UNAM-CERT.
In the field of Internet Governance, Pisanty was a pioneer in structuring the first Internet Governance guidelines worldwide, from his positions at ISOC and ICANN, as well as through his work in academia. Alejandro was also part of the Working Group on Internet Governance (WGIG) set up at WSIS, where he was a staunch promoter and advocate for the multistakeholder model. Today, he continues to contribute as an active member of the Internet Governance Forum's Advisory Group.
In 2016, the Outstanding Achievement Award jurors also decided to make a posthumous mention to professor Alvaro Nadal Pastor for his outstanding work in favor of Internet development in the Dominican Republic.
LACNIC contributes to Internet development throughout the region by means of an active cooperation policy, by promoting and defending the regional community's interests, and by helping create conditions that will allow the Internet to become an effective instrument for social inclusion and economic development in benefit of all Latin American and Caribbean countries and citizens.