Lifetime Achievement Award 2018
Honors Researcher Michael Stanton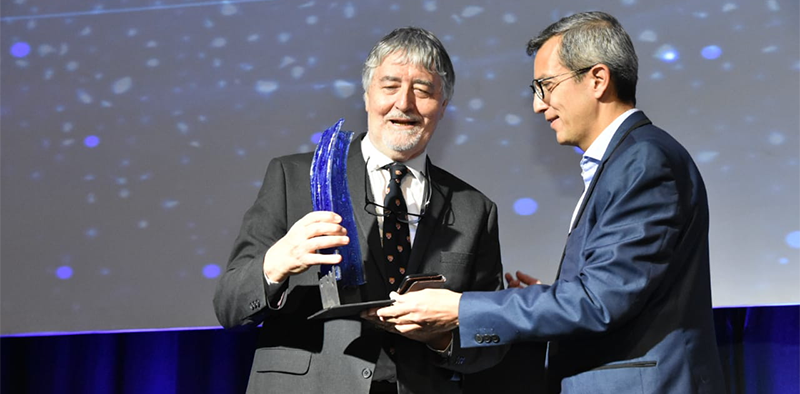 The researcher and scientist Michael Anthony Stanton received the 2018 Lifetime Achievement Award for his contribution to Internet development in Latin America and the Caribbean.
The Lifetime Achievement Award is presented by the Latin American and Caribbean Internet Addresses Registry (LACNIC) to personalities who have contributed to the growth of an open, stable and secure Internet for the development of the region.
Stanton received his award during the LACNIC 30 LACNOG 2018 meeting, which brought the Latin American and Caribbean Internet community to Rosario, Argentina.
The Lifetime Achievement Award was created by the LACNIC Board in 2009 to honor individuals whose achievements have had a significant impact on Internet development and have set an example for the rest of the community. Since its first edition in 2009, the Award has been presented to 19 leaders from 13 different countries.
The decision to grant the award to Michael Stanton was made by this year's selection committee —Ida Holz, Rodrigo de la Parra, Rafael Ibarra, Ben Petrazzini, Carolina Aguerre, Selby Wilson and Jesús Martinez— after an extensive selection process.
Thus, the selection committee has recognized Stanton's contributions to the regional Internet community.
Stanton served as Director of Research and Development at RNP, Brazil's National Research and Education Network.
After obtaining his Ph.D. in Mathematics from the University of Cambridge in 1971, he went on to teach at numerous and renowned universities in Brazil, always encouraging the development of local computer network capabilities.
From 1986 to 1993, he promoted network training and research in Brazil, including the creation of Rede-Rio, the Regional Network of the State of Rio de Janeiro, and the RNP itself.
He also worked on the construction of the Clara academic network as a member of its technical commission, promoting community-building and academic collaboration in Latin America.
Since 2001 and working from RNP, he has led collaborative projects for the implementation of large-scale networks and deployed modern optical infrastructure to provide high-capacity services for national and international collaboration efforts.
Likewise, he has contributed to the development of the Internet in Brazil and Latin America through academic research working groups that generated innovative services for RNP and members of Red CLARA.
The selection committee especially valued his contribution to the promotion of the collaborative Internet model, the strengthening of technical skills, and the use and development of Internet technologies.