Adriana Ibarra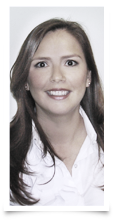 México
Adriana Ibarra is an attorney specializing in intellectual property and electronic media. Adriana completed her law degree and her master's degree in international commercial law at the Monterrey Institute of Technology, Monterrey Campus, Mexico. She has also completed additional studies in intellectual property, electronic media and the Internet at the World Intellectual Property Organization and the Berkman Center for Internet & Society at Harvard Law School's Internet law program in Mexico. She was certified as a consultant and arbitrator for intellectual property and international trade disputes by the Mercosur International Conciliation and Arbitration Court / ALCA.
She has more than 12 years of experience in Internet-related organizations, particularly in the Latin American and Caribbean region, including: ICANN, LACNIC, LACTLD and NIC Mexico. She has been invited to provide her expert opinion in forums organized by the House of Representatives, and other intellectual property and electronic media-related Mexican authorities. She served as coordinator of the intellectual property and information technologies area of the Tecnológico de Monterrey System. She was also a member of, and acted as a consultant to, the NIC Mexico Consultative Committee. She has taught at the Tec Milenio University. She has also served as coordinator of the information technologies and intellectual property department at a law firm, where her team was recognized by the World Finance Magazine 2010 Legal Awards as the best intellectual property legal team in Mexico.
Adriana has been a speaker and author for many national and international conferences and publications organized by the following: IMPI, INDAUTOR, FIADI, NIC Mexico and various Universities. Her work has appeared in different publications such as Mondag, Latin Lawyer, Ejecutivos de Finanzas, Tax Notes International, IDC Seguridad Juridico Fiscal, AMECE, LatinoamerICANN, and El Norte newspaper. She has also contributed to the Intellectual Property Section, Business and Investments, "Mexico Survey" of the International Bureau of Fiscal Documentation in 2009 and 2010, as well as the "Digest of Commercial Laws of the World, Mexico: Trademarks Practice & Forms," Oceana Publications Inc. in 2003 and 2010. She co-authored, "Factura Electrónica, Guía Practica de Implementación," Special Edition, TELMEX and Diverza Información y Análisis, S.A. de C.V., 2006. She also co-authored "Mexico Tax, Law and Business Briefing: 2005, Mexico's Tax Law Finally Catches Up to Business Overhauling E-filing and E-Invoicing", World Trade Executive Inc., 2005. She co-authored "Compilación de Documentos derivados del Foro: Avances en la Legislación en Materia de Comercio Electrónico" and participated in working groups organized by the Commerce and Industrial Development Commission of the Honorable House of Representatives, Network Information Center Mexico in 2002. Ibarra was also co-author of "Manual y Políticas de Derechos de Autor para el Sistema Tecnológico de Monterrey" and "Manual y Políticas de Signos Distintivos para el Sistema Tecnológico de Monterrey" published by the Monterrey Institute of Technology and Higher Education in 2003.
Adriana Ibarra is a member of the Mexican Bar of Lawyers and of the State Bar of Georgia, USA as a foreign law consultant. She is also a member of the American Bar Association Forum Division on intellectual property and information technologies.
Adriana has served on LACNIC's Fiscal Commission since 2003. She is currently with Ibarra Vazquez, LLC and is also a student at the Mercer University School of Law.