Hernán José Arcidiácono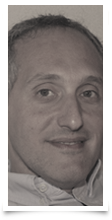 Argentina
Hernán Arcidiácono has a degree in electronics engineering from Argentina's National Technological University, as well as a master's degree in business administration.
Throughout his professional career, Hernán Arcidiácono has served in various management positions at Internet service providers and data centers. Since 2013 he has been the director of technology and operations at IPlan, a company he originally joined in the year 2000.
Hernán Arcidiácono has always participated in Cabase. He is firmly convinced that IXPs are critical to Internet development in our region. More specifically, since 2009 he has been responsible for the Buenos Aires IXP, one of the many Internet Exchange Points that are part of the Argentine Internet Chamber. Likewise, Arcidiácono has been part of LAC-IX since the early days of this organization, which brings together the region's Internet exchange points.
He is an active promoter of the role of IXPs as a key component for the installation of content distribution networks in our region. In this context, he is a frequent speaker at LACNIC meetings as well as at other events including IETF95, CDN World Summit, and NetNAPs.
Arcidiácono began his teaching career as an assistant professor at the National Technological University; he went on to become head professor at Universidad de Palermo's School of Engineering.