IPv6 Day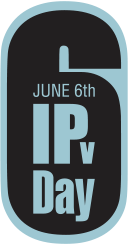 As part of the celebrations marking the tenth anniversary of IPv6 Day, LACNIC is organizing this webinar with the participation of leading experts on the subject.
The virtual meeting will be divided into three parts. During the first part, a study recently conducted by LACNIC and regional IPv6 deployment statistics will be presented. It will also include a presentation on the role of governments in promoting IPv6 and highlighting their importance in this process.
The second part of the activities planned for IPv6 Day will have a more technical focus and will begin with keynote speaker Lee Howard, who will show how IPv6 has grown over the past decade.
Howard will be followed by a presentation by the winner of the latest edition of LACNIC's IPv6 Challenge.
Finally, under the title "The Future is Here: Believe It or Not!" LACNIC has scheduled a series of lightning talks on IPv6 and online gaming, resource assignments and privacy, and other topics.
| Date | Duration |
| --- | --- |
| 16 june | 180 min |
Agenda
Time UTC
Topic
Speaker
Slides
17:00
IPv6 Day Opening
Oscar Robles
Video
17:10
IPv6 Adoption Statistics for Latin America and the Mercosur Region
Carlos Martínez
Video
17:25
Can Governments Play a Role in Promoting IPv6?
Oscar Robles
Video
17:40
2020 Study on IPv6 Deployment in Latin America and the Caribbean
Sebastián Cabello, Diego Ros Rooney
PDF (2.9MB)
Video
18:05
Ten Years of IPv6 (and IPv4) Growth
Lee Howard
PDF (1.6MB)
Video
18:50
Break
19:05
Winner of the IPv6 Challenge, First Edition of 2021
Henri Godoy, Ivan Miguel
PDF (1MB)
Video
19:35
The Future is Here: Believe It or Not!
IPv6 Is Encrypted
Alejandro Acosta
PDF (3.2MB)
Video
IPv6 Respects Privacy
Alejandro Acosta
How to request IPv6
Gianina Pensky
PDF (2.1MB)
Video
Internet Gaming in the Era of IPv6
José Cotúa
PDF (1MB)
Video