Vivian Valverde Argüello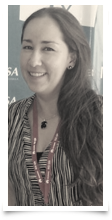 Costa Rica
Vivian Valverde is a systems engineer with a degree in information systems from the National University of Costa Rica. She currently works for the Costa Rican Institute of Electricity, a government company that provides electricity and telecommunications services.
She is currently responsible for managing all of her organization's IPv4 and IPv6 resources.
She has had more than 16 years of experience working on network and infrastructure design and configuration.
Vivian participates actively in the community and at LACNIC meetings.