Gabriel Adonaylo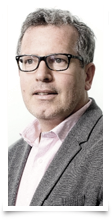 Gabriel is a Systems Information Engineer from the Universidad Tecnológica Nacional of Argentina with various postgraduate courses, including at Stanford University and the Kellogg Business School at Northwestern University.
For more than 20 years, he has served as Internet Product Manager and later as Portfolio Director for Latin America at Comsat International and British Telecom.
He currently coordinates LAC-IX, the Latin American and Caribbean Internet Exchange Point Operators Association, representing the organization in the Federation of Traffic Exchange Points.
He participates in the organization of the Latin American and Caribbean Peering Forum.
He is part of the Technical Community, a group comprised of representatives of the region's various Internet organizations.
He is a member of the LACNIC Board, where he is currently serving as the organization's treasurer. Prior to this, he served on LACNIC's Fiscal Commission for 10 years.
He was one of the founders of NAP CABASE and later vice president of the current Argentine Internet Chamber. He was part of the original team working on NAPLA (later the Regional Interconnection Forum). He was a founding member of LACNOG, the Latin American and Caribbean Network Operators Forum. He has actively participated in different forums and meetings, including the Internet Governance Forum (IGF), the Global Peering Forum (GPF), ARIN, NANOG, RIPE, the IETF, and others.