Sergio Rojas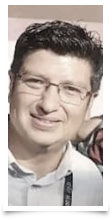 Sergio Rojas began his relationship with technology back in 1997 —the year when the Internet was first deployed in his native country, Paraguay— working for some of the market's pioneering ISPs. He was then head of ICT for a United Nations project and also worked as an independent consultant for GTZ, the German technical cooperation agency.
In 2009, Sergio joined LACNIC as head of registration services (2009-2020), where one of his main responsibilities was managing Internet number resources (IPv4, IPv6 and ASNs) for the region of Latin America and the Caribbean.
He currently lives in Montevideo, Uruguay, and works as interconnection manager & Latin American outreach at PCH (Packet Clearing House).