Eduardo Barasal Morales
Nominee information
Candidate´s name:
Eduardo Barasal Morales
Country of residence:
Brazil
Organization name:
NIC.br
Biographical information: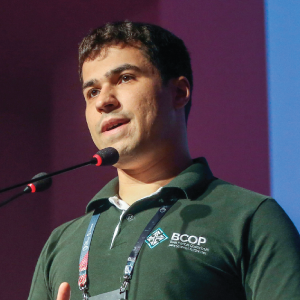 Eduardo Barasal Morales is coordinator of the autonomous systems training department at CEPTRO.br/NIC.br. Highlights of his activities include the coordination of the IPv6.br project (an initiative to disseminate knowledge and encourage the deployment of the IPv6 protocol) and the BCOP project (a program focused on helping autonomous systems apply best operational practices in their networks). For both projects, Eduardo works at national and international level with the goal of improving the Internet for all. At national level, his main responsibilities include the EAD Basic IPv6, Advance IPv6 and BCOP courses, organizing the Regional IX Forum events and the Tutorial Day during Infrastructure Week, and creating the teaching materials for network administrators (including the book titled "IPv6 Labs"). Highlights at international level include his participation in the workshop held at the 2018 IGF, "Game Over IPv4. The Need of IPv6 for the Future of Games," the tutorial at LACNIC 30 titled "Device Hardening and MANRS: Theory and Practice," the conference at LACNIC 29 "Anti-spoofing Techniques for Providers," the partnership with AFRINIC for a course in Mozambique, the tutorial at LACNIC 28 "Advanced IPv6," the tutorial at LACNIC 27 "Basic IPv6," the LACNIC 25 conference "Analysis of the Implementation of the IPv6 Program in OpenWrt from the point of view of RFC7084," his participation in the IETF 97 meeting, his ISOC fellowship, and his contribution to the document "Understanding the commercial and economic incentives behind a successful IPv6 implementación" by the IPv6 BPF at IGF 2016.
Nominating information
Reason for the nomination: I believe Eduardo has all the qualities needed to co-chair the LACNIC Policy Forum. He is a very reasonable person, has enough perception to properly analyze any situation and have a good understanding before making a decision, the qualities which are necessary for an arbitrator, which is the role of the chair.
If elected, I believe Eduardo will be able to contribute once again to LACNIC's activities, as he has already done on many occasions where he had the opportunity to collaborate with the community.
Name of the person nominating the candidate:
Luciano Pereira
Organization:
RocketNET