Internet Society, LAC-IX and LACNIC sign agreement to promote activities for the development of regional Internet exchange points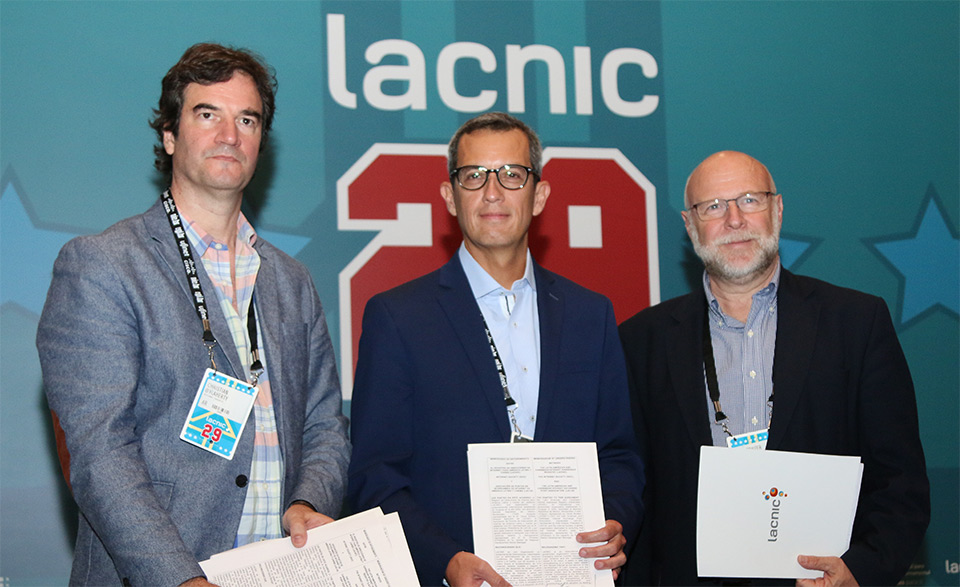 LACNIC, the Latin American and Caribbean Internet Addresses Registry, has signed a cooperation agreement with LAC-IX and the Internet Society to work jointly and coordinate activities to promote the development of Internet exchange points in the region and encourage their adoption of best practices. This agreement was signed today within the framework of LACNIC 29.
"Together with ISOC and LAC-IX, we share our interest in promoting the collaborative Internet model and contributing to the development of a stable, secure and open Internet, with an emphasis on strengthening IXPs and infrastructure," noted LACNIC CEO Oscar Robles after signing the agreement.
As part of this activity, Ariel Graizer, LAC-IX Chair, commented that "This agreement will allow us to work in coordination, generating synergies that will enhance our capabilities in order to continue to improve Internet infrastructure around the region."
Likewise, Christian O'Flaherty, Senior Development Manager at ISOC, stressed that this agreement seeks to generate a cooperation mechanism between the three parties and strengthen the activities that are currently carried out in relation to regional Internet exchange points.
Plans also include supporting capacity-building events for the creation and development of IXPs, disseminating common initiatives and projects, and promoting good routing practices and other Internet standards at traffic exchange points throughout the region.
The three organizations plan to work together to generate cooperation mechanisms and establish common programs for working on IXPs in Latin America and the Caribbean.