Javier Salazar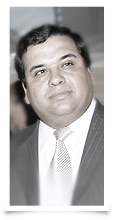 Mexico
Javier Salazar was born on 6 May 1969 in Monclova, Coahuila (Mexico). He has a degree in Electronics and Communications Engineering from the Monterrey Institute of Technology, a master's degree in Teleinformatics from the Autonomous University of Nuevo Leon and a PhD in Educational Sciences from the Monterrey School of Business.
His professional career has been closely linked to the introduction and expansion of the Internet in Mexico. Highlights of his work include the implementation of the first digital Internet link in Mexico and the design of the MexNet academic network and many private networks.
He has more than 30 years of experience in networks and cybersecurity, including the design, implementation, operation, and security of large-scale networks.
He has collaborated with academic institutions, non-governmental organizations, integrators, and manufacturers. He is currently serving as a Security Engineer at Tenable, Vice President of LACNIC, and a member of NIC Mexico's External Advisory Committee.