Javier Salazar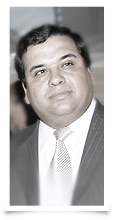 Javier Salazar
México
Javier Salazar was born in 1969 in Monclova, Coahuila, Mexico. He obtained his degree in Electronics and Communications Engineering from the Monterrey Institute of Technology and Higher Education in May 1990 and a Masters degree in Computer Sciences from the Autonomous University of Nuevo Leon in 2006.
From early on in his career, Javier Salazar has been involved with the introduction and expansion of the Internet in Mexico, highlights of which include the launching of the first Mexican Internet link through the University of Texas, routing design and support for the MEXNET academic network as well as for a large number of private networks. He is an expert in TCP/IP networks and routing, and in 1994 he obtained the Cisco CCIE certification (# 1302). His experience includes establishing quality metrics in networks covering not only technical but business aspects, as well as planning, design and operational processes for large-scale public networks and the development of related services.
He has cooperated with the Networks and Telecommunications Departments of the Monterrey Institute of Technology and Higher Education (1990-1992), Editora El Sol (El Norte newspaper) (1992-1993), and served as Engineering Manager at Consorcio Red Uno (1993-1996) as well as Engineering Manager, Deputy Director of Operations, and Quality Assurance Manager at Avantel (1996-2006). Javier Salazar worked at Cisco Systems from 2006 to 2010 and is currently serving as Director of Engineering at Micronet Mexico.