Daily recap - Wednesday
Welcome to the third daily recap of LACNIC 30 LACNOG 2018!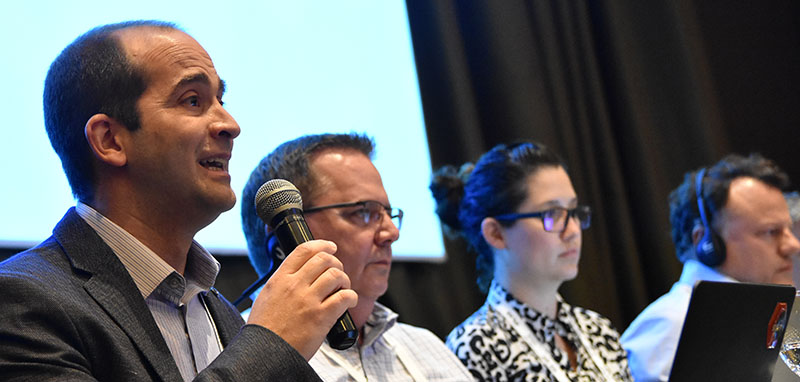 The sessions of the 2018 edition of LACNOG, the Latin American and Caribbean Network Operators Forum, began this Wednesday 26 September,
First, LACNIC's R+D Coordinator Alejandro Acosta gave an update on the progress of the Natmeter Project. Jordi Palet then presented In Search of the Lost Ark (i.e. IPv6 CPE), where he spoke about the most common or relevant mechanisms for transitioning to IPv6, and Esteban Carisimo presented a study of the evolution of content providers in the Internet core.
In the afternoon, Job Snijders presented Robust Routing Policies, where he offered a conceptual model to look at routing policy, and terminology to help discuss routing policy and analyze routing policy design patterns.
All LACNOG presentations and videos can be found here.
The third part of the Technical Colloquium of the Forum of Incident Response and Security Teams took place in parallel. FIRST seminars provide a forum where members and guests share information on vulnerabilities, incidents, tools and other issues affecting the operation of security and incident response teams.
During the afternoon, LACNIC's Chief Services Officer Alfredo Verderosa moderated the panel How to Complete a Successful IPv4 Transfer. Panelists included experts from the RIRs that allow IPv4 transfers (RIPE, APNIC, ARIN) and organizations that facilitate these processes (Addrex and IPbroker).
This panel provided LACNIC members with relevant information on IPv4 transfers in Latin America and the Caribbean and shared experiences in other Regional Internet Registries (RIRs).
In turn, the Security Training explained why blacklists are a problem, focusing on best practices and real-world cases on how to deal with and avoid blacklisting.
Stay tuned for our daily recaps!
Thanks for reading,
The LACNIC Team.