Carlos Martinez-Cagnazzo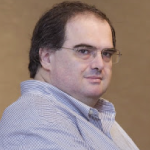 Carlos Martinez-Cagnazzo is the Chief Technical Officer of LACNIC, the Latin American and Caribbean Internet Address Registry.
Carlos joined LACNIC in 2010 as the first member of the newly formed Research and Development group. Among other projects, he was involved in promoting IPv6 and DNSSEC adoption and the Resource Certification (RPKI) Project. During 2013, Carlos was appointed Manager of ­LACNIC's Security and Stability Program; in 2014, he became LACNIC's Chief Technical Officer.
His projects and research interests include Internet measurements, particularly the benefits of Internet Exchange Points; security in BGP and routing; security in the Domain Name System, specifically DDoS mitigation; and deployment of DNSSEC. Carlos is also an appointed member of ICANN's Security and Stability Advisory Committee (SSAC.)
He is an Electrical Engineer who started his professional career in IP Network Operations and Management and gradually transitioned to Network Planning and then to Computer and Information Security. From 2005 to 2010, he worked exclusively in the field of computer security, helping deploy the first Computer Security Incident Response Team (CSIRT) in his country.
Carlos has also taught Computer Security and Computer Networking classes for undergraduate students at several local universities in Uruguay.