Sergio Rojas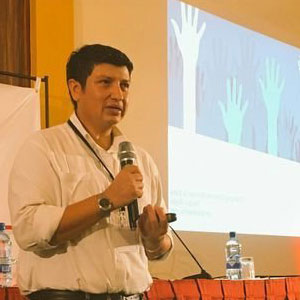 Sus comienzos en TI datan desde el año 1997, año en que la Internet inicia su despliegue en su país natal (Paraguay) trabajando así para unos de los ISPs pioneros en el mercado. Posteriormente, se ha desempeñado como responsable TI para un proyecto de Naciones Unidas y como consultor para el proyecto GTZ de la Cooperación Técnica Alemana.
Adicionalmente, también ha sido responsable por el montaje de redes inalámbricas en zonas rurales y de difícil acceso.
Durante los últimos 11 años se desempeñó como Líder en el área de Servicios de Registro en LACNIC (2009 -2020) siendo una de sus principales tareas la gestión de los recursos numéricos de Internet (IPv4, IPv6 y ASN) para la región de América Latina y el Caribe.
Actualmente, vive en Uruguay y se desempeña como Consultor Independiente en TICs.
To participate, you must have a Zoom account, as sessions will be held via this platform.
If you don't have a Zoom account, you can create one here.