Gianina Pensky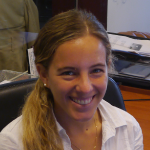 LACNIC

Gianina Pensky es Ingeniera en Telecomunicaciones, egresada de la Universidad ORT en Montevideo, Uruguay.
Ha realizado un posgrado en Gestión de la Tecnología, ha obtenido un certificado en la Universidad de Tel Aviv (Israel) por el curso: "Entrepreneurship & Innovation Training Program" y está cursando un Máster en Gestión de la Innovación en la UDELAR.
Actualmente se desempeña como Líder de Servicios de Registro en el Registro de Direcciones de Internet para Latinoamérica y el Caribe (LACNIC). Antes de trabajar en LACNIC, Gianina trabajó en ALCATEL en el área de Optimización de la red 3G y en IKATU/Bang & Olufsen involucrada en proyectos de domótica.
To participate, you must have a Zoom account, as sessions will be held via this platform.
If you don't have a Zoom account, you can create one here.