Dalia Kelly Terán Arévalo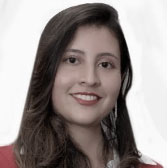 Dalia Kelly Terán Arévalo Ingeniera en Electrónica y Telecomunicaciones de la Universidad del Cauca- Popayán, Colombia. Candidata a Magister en Seguridad Informática de la Universidad Internacional de la Rioja UNIR–España. Auditor interno de Sistemas de Gestión de Seguridad de la Información ISO 27001::2013 y Cyber Security Foundation - CSFPC™.
Ha sido seleccionada para participar en diferentes versiones del evento Cyberwomen Challenge Hacker Girls de Colombia por haber obtenido un alto puntaje en la prueba de conocimiento, del cual ha sido beneficiaria de los cursos de seguridad digital Cibersecurity Essentials e introducción a la seguridad cibernética de Cisco Networking Academy.
También ha participado como ponente del X Congreso Iberoamericano de seguridad Informática CIBSI 2020. Presentando el artículo "Análisis y evaluación de la Seguridad proporcionada por DNSSEC en Redes de Información IPv6 en un escenario de pruebas controlado".
Sus áreas de interés son: Internetworking, redes y servicios en IPv4 e IPv6, seguridad en redes y sistemas de información, enrutamiento IPv4/IPv6, análisis de vulnerabilidades, análisis forense, delitos informáticos y análisis y gestión de riesgos de seguridad de la información.
To participate, you must have a Zoom account, as sessions will be held via this platform.
If you don't have a Zoom account, you can create one here.