Gerardo Rada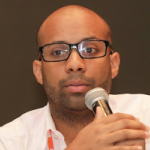 LACNIC
Gerardo Rada is a Systems Engineer who graduated in 2006 from the National Experimental University of the Venezuelan Armed Forces (UNEFA). He has 8 years of experience in systems development and is currently working as Software and Development Engineer at LACNIC, where his main responsibility is managing and developing this organization's resource certification system https://rpki.lacnic.net/. While at the Venezuelan National Center for Technological Innovation (CENIT), in 2007 Gerardo was chosen to be a part of the Uruguay-Venezuela development team within the framework of the Genexus Ruby project. In 2008 he joined the technical team of CENIT's technological prospection project http://portal.cenit.gob.ve/cenitcms/noticia_2569_1.html which resulted in the publication of the Prospective Study on ICTs and the Digital Content Industries in Venezuela.
To participate, you must have a Zoom account, as sessions will be held via this platform.
If you don't have a Zoom account, you can create one here.