Guillermo Cicileo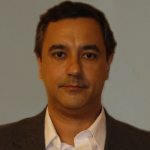 LACNIC
Guillermo Cicileo se desempeña actualmente como Responsable del Programa de Seguridad y Estabilidad de Internet de LACNIC. Es miembro del board de LACNOG y Coordina la Task Force de Capacitación. Forma parte del comité de evaluación del FLIP6 - Foro Latinoamericano de IPv6 desde 2007 a la actualidad. Hasta 2015 se desempeñó como Coordinador General de la RIU, red de las universidades nacionales de Argentina.

Ha participado activamente de la creación de RedCLARA (Cooperación Latinoamericana en Redes Avanzadas), siendo miembro de la Comisión Técnica inicial del proyecto.

Ha sido instructor en los workshops de enrutamiento avanzado organizados por distintas organizaciones como CLARA, WALC y LACNIC, dictando capacitaciones sobre multicast, IPv6 y BGP entre otros temas. Junto a otros autores ha escrito el libro "IPv6 para Todos" en 2009 (proyecto financiado por Internet Society, Capítulo Argentina) y el libro "IPv6 para Operadores de Red" en 2014 (financiado por Internet Society, Capítulo Argentina). Ha contribuido tambien como instructor en la Escuela de Gobernanza de Internet y participado de los foros de gobernanza de Internet regionales.

Ha sido parte de los inicios de Internet en Argentina, participando tanto desde organizaciones academicas como de ISPs. Ha colaborado con las principales organizaciones que promueven el desarrollo de Internet, participando en LACNIC desde su creación, tanto en los grupos de trabajo como en el Foro de Políticas y fue miembro de la Comisión Electoral desde 2011 hasta 2015. También ha estado involucrado en las reuniones de operadores LACNOG y en las principales actividades y foros de Internet de la región.

Su actividad laboral ha estado ligada a las redes científico y académicas a nivel nacional e internacional, desempeñándose en esas áreas durante más de 15 años. Como parte de su trayectoria, dirigió la primera conexión de Argentina a Internet2 y Redes Avanzadas, así como la incorporación del país a la RedCLARA.
To participate, you must have a Zoom account, as sessions will be held via this platform.
If you don't have a Zoom account, you can create one here.