Narda Erika Vega Valenzuela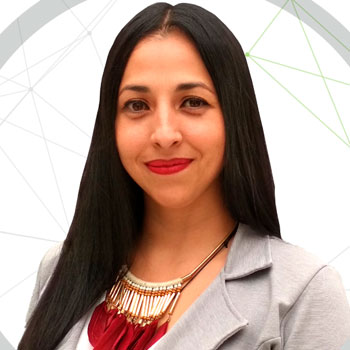 LACNOG
Erika Vega se desempeña actualmente como Gerente de cuenta en Gamma Ingenieros, forma parte del directorio de la comunidad de operadores de redes de America Latina y el Caribe (LACNOG) y es la coordinadora del grupo de infraestructura del capítulo de Internet Society Colombia. Es Ingeniera de Telecomunicaciones con especialización en Consultoría para la Integración de las Telecomunicaciones (ITIO) en la Universidad Politécnica de Valencia. Desde hace mas de 6 años ha coordinado y apoyado en implementaciones del protocolo IPv6 en entidades del estado y en Instituciones de Educación Superior en Colombia, apoyándolas en temas de investigación, soporte y capacitación, adicionalmente hizo parte del grupo de profesionales que planeo, diseñó y apoyó la construcción de la nueva red de fibra óptica de RENATA a nivel nacional, fue ganadora de los premios FRIDA, con el proyecto para la subvención de Internet Society, el cual tiene un enfoque de seguridad y se titula seguridad BGP en la infraestructura de RENATA. Ha participado como ponente y tutora en numerosos eventos a nivel nacional e internacional entre los cuales se destacan Colombia 4.0, eventos LACNIC/LACNOG, Foro de Gobernanza de Internet, TICAL, encuentros nacionales y regionales de IPv6 entre otros.
To participate, you must have a Zoom account, as sessions will be held via this platform.
If you don't have a Zoom account, you can create one here.