Daily Recap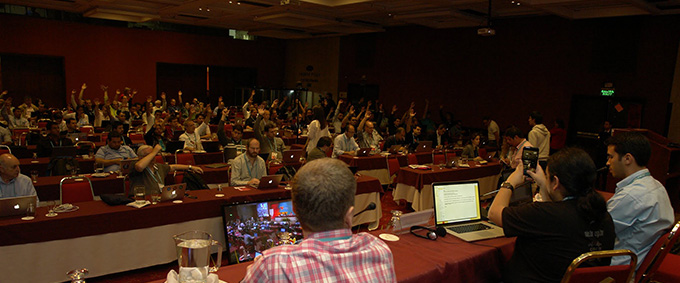 Thursday 1st October began with several LACNIC presentations. First, Graciela Martinez (LACNIC) provided an update on LACNIC WARP. WARP, LACNIC's computer security Warning, Advice and Reporting Point, seeks to implement the coordination functions needed to strengthen response capabilities as they relate to incidents affecting Latin American and Caribbean IP addresses.
Mónica Báez (LACNIC) then spoke about LACNIC's online campus and the training activities implemented so far.
Guillermo Cicileo presented LACNIC's Internet Security and Stability Program, the purpose of which is to contribute to a more secure and stable Internet, both within the region and globally. Under the umbrella of this program, different specific actions are carried out for ensuring critical Internet infrastructure and providing greater stability and operational resilience.
Next, Carlos Martínez and Sergio Rojas presented two collaborative initiatives developed jointly by the five RIRs — RDAP and the global IPv6 deployment report. Updates were also presented by the IANA, the NRO, APNIC, RIPE NCC, and ARIN.
After the morning coffee break, George Michaelson presented an analysis of Latin American and Caribbean networks from the point of view of APNIC data. New measurements by APNIC based on HTML5 were presented, revealing further details of DNSSEC and IPv6 deployment worldwide. This presentation looked at the LACNIC region and showcased some stories regarding Internet deployment.
The Public Policy Forum began at 12:15. This time, the following policy proposals were presented:
LAC-2015-4: Resource Recovery Timeline (by Ricardo Patara). Summary: This proposal seeks to reduce the period of time needed to recover Internet number resources that are not being "properly utilized" from 6 to 3 months.
LAC-2015-6: Modify the scope of IPv4 Exhaustion Phase 2 in the region. (by Edmundo Cazarez) Summary: The proposal seeks to modify the text in sections 11.1 and 11.2, doubling the space assigned to Phase 2, from a /11 to a /10.
Outcomes for these proposals were as follows:
2015-4: 83 in favor – 3 against – 14 abstentions - APPROVED
2015-6: Presented and discussed; the expedited process continues (discussion period)
The LACNOG meeting took place this afternoon. There, Hernán Contreras (CISCO) gave a presentation titled Next Generation mVPN: A New Approach to Multicast in MPLS VPN Service Environments. Next, Álvaro Retana (CISCO) spoke of Bit Indexed Explicit Replication. José Luis Espinosa Torres (Telefónica Perú) then explained a case of successful IPv6 deployment in Peru. Finally, Antonio Moreiras (NIC.BR) shared his experience with INOC DBA, a hotline for communication among autonomous systems.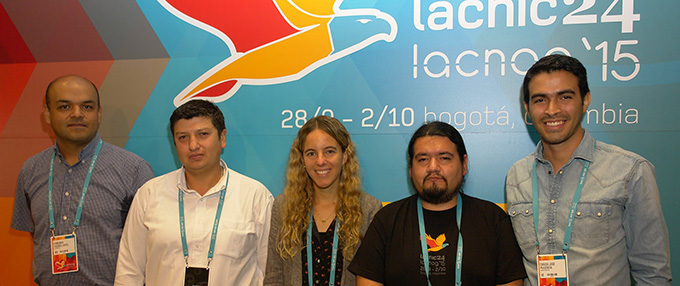 Wednesday 29th September began with a presentation on the Internet of Everything by Álvaro Retana (CISCO).
The Internet of Everything (IoT) is the latest revolution in terms of technology. Because less than 1% of "things" are currently connected to the Internet, there is a huge opportunity to connect the unconnected and change the world. The idea behind the Internet of Everything (IoE) is to connect people, processes, data and things on a platform rich in innovation opportunities.
Laterm Gianina Pensky (LACNIC), Edmundo Cazarez (NIC MX), Sergio Rojas (LACNIC), Carlos Plasencia and Alex Ojeda (Co-Chairs of the Public Policy Forum) then presented "Changing Internet Rules is Easy," a presentation aimed at encouraging the community's participation in the LAC region's policy development process.
The LACNIC24 Public Policy Forum kicked off at 11:00 am. LACNIC operates based on a self-regulation model according to which the rules (policies) that govern Internet resource administration are developed by the regional community through a public, participative and transparent process which is open to anyone who wishes to participate and built on consensus.
This space provides the community the opportunity to submit policy proposals in line with regional interests, safeguarding the interests of the community as a whole.
This time, the following policies were presented:
LAC-2015-3: IPv4 exhaustion policy with a scheduled termination date and the scheduled return of large users' blocks. Summary: This proposal sets 2030 as the date of IPv4 exhaustion, and suggests that large IPv4 block users return 1/15 of their blocks each year. (Presented by Moises Ceratti)
LAC-2015-5: Increase to 3 years the minimum period of time required before a block can be transferred under section 2.3.2.18. Summary: This proposal seeks to modify section 2.3.2.18, increasing the period of time required before an assigned block can be transferred to 3 years, from the one-year period currently in force. (Presented by Ricardo Patara)
LAC-2015-2: Inter-RIR Transfers. Summary: This proposal seeks to allow organizations to transfer IPv4 resources into LACNIC from another RIR. (Presented by David Huberman)
LAC-2015-1: Trigger 2.3.2.18 when a justified request larger than /22 is received which cannot be allocated from any remaining pool of addresses at LACNIC. Summary: This proposal seeks to trigger IPv4 transfers among members in the LACNIC region. (Presented by Mike Burns)
Outcomes for these proposals were as follows:
2015-3: 2 in favor – 75 agains – 35 abstentions – WILL RETURN TO THE MAILING LIST FOR FURTHER DISCUSSION
2015-2: 17 in favor – 87 against – 33 abstentions - ABANDONED
2015-5: 107 in favor – 5 against – 8 abstentions - APPROVED
2015-1: 48 in favor – 32 against – 21 abstentions - APPROVED
The LAC Network Operators Forum meeting was held in the afternoon. There, participants had the chance to hear several interesting presentations. First, Anahí Rebatta (TeleGeography) gave a presentation titled "Latin America - Regional Infrastructure and Connectivity."
Sofía Silva Berenguer (MDEA Networks) then presented her work simulating the creation of Internet exchange points in certain countries. In this sense, a 15% increase can be seen in the average degree of active Autonomous Systems in the countries where the simulation is conducted.
Silvia Nora Chávez gave a presentation titled "Improving CUDI Mexico's National Research and Education Network."
To conclude, Carlos Martínez and Jan Zorz presented a tutorial on DANE and some current statistics on DANE deployment, while Fabricio Tamusiunas presented a comparative analysis of automated measurement methodologies, based on CPEs and software, in Brazil.
All the presentations mentioned above are available at: http://www.lacnic.net/web/eventos/lacnic24-lacnog
Wednesday came to a close with a social event at Andrés Carne de Res.

Today, September 29th, at 9:00 (local Bogotá time), the Hotel Crowne Tequendama hosted the LACNIC24- LACNOG15 opening ceremony, which was attended by more than 350 participants from around the region.
This activity was attended by Oscar Messano, Chairman of LACNIC's Board of Directors; Alejandro Guzman, Chairman of LACNOG; and Eduardo Santoyo, LACTLD Chair.
The ceremony served to highlight relevant activities scheduled to take place during the event, among them the panel on critical Internet infrastructure, the Public Policy Forum, the panel on IP address transfers, the session on the IANA functions' stewardship transition, and the technical presentations within the framework of the LACNOG meeting.
Oscar Robles, LACNIC's CEO, then presented a general update on LACNIC, where he addressed several topics such as the IANA functions' stewardship transition, IPv4 exhaustion within the region, and how the number of LACNIC members has grown.
Likewise, Tomás Lynch, a member of the LACNOG Program Committee, presented LACNOG's annual report, highlighting the LACNOG structure and the most relevant activities the organization has carried out since its first event.
The panel on Critical Internet Infrastructure took place at 11:00 am, with the participation of Tomas Lynch (Ericson), Carlos Martinez (LACNIC), Christian O'Flaherty (ISOC), Eduardo Santoyo (LACTLD), Arturo Servin (Google), Ariel Grazier (LAC-IX), and Milton Kaoru Kashiwakura (NIC.BR).
Several issues were raised for debate, among them the definition of critical infrastructure, the problems currently affecting critical infrastructure, and certain important elements that are part of this infrastructure.
Then, for the first time, a panel on IP Transfers was held, which was moderated by Jorge Villa. Two presentations on transfers in other regions were made: Asia Pacific (George Michaelson, APNIC) and Europe (Marco Schmitt, RIPE NCC). Transfer policies have already been implemented in these regions, so an update was provided as to how these processes are currently working.
Likewise, Ricardo Patara (NIC.BR) shared his more critical point of view on the approval of transfers in the region. Ricardo stressed the importance of generating a mechanism that will guarantee the fair and equitable distribution of resources.
Edmundo Cazares (NIC MX) briefly explained the current status of transfers in the LAC region, and stressed the risk of transfers being made without being recorded in the regional registry.
Daniel Miroli (IP Trading) presented his perspective as a consultant and explained how the transfer process works.
All presentations made during this panel are available at: http://www.lacnic.net/web/eventos/lacnic24-lacnic
Alejandro Acosta presented the status of IPv6 deployment and statistics gathered through the project currently being implemented by LACNIC and CAF (Latin American Bank for Development). In order to encourage IPv6 deployment and adoption in Latin America and the Caribbean, LACNIC and CAF are working together on a project aimed at promoting the development of critical Internet infrastructure in the region.
The project seeks to raise awareness of the region's progress in terms of IPv6 migration within the global context, promote and encourage the development of successful experiences, and generate evidence that will help decision-making at management and government level. In addition, it will also foster broadband deployment, increase Internet access, and create an institutional framework to support growth in Latin America and the Caribbean.
The morning ended with a session on the IANA functions' stewardship transition.
This panel summarized the consultation process regarding the transition of stewardship of the IANA functions in Latin America and the Caribbean, in other regions, and the overall coordination process among the various Internet community stakeholders. To conclude, the final step of the process at the IGC was described.
The panel was made up by Andrés Piazza (Head of Strategic Relations and Internet Governance at LACNIC), Esteban Lescano (member of the CRISP Team representing the LAC region), Jorge Villa (member of the LACNIC community at the CWG), and Oscar Robles (LACNIC CEO).
From 2:00 to 6:00 pm, the Esmeralda 2 room welcomed the LAC Computer Security Incident Response Team (CSIRT) meeting, which has become a workspace for Latin American and Caribbean actors to share security-related issues. This sharing of knowledge among participants aims at strengthening the region in terms of computer security incident prevention and impact mitigation.
The meeting included extremely interesting presentations, such as a methodology for assessing CPE security and the incident management system developed by each CERT.
The Peering tutorial was presented in room Bolívar 2. This tutorial analyzed the basics of traffic exchange, peering, and CDNs and discussed their business relationships and relevant technical aspects. Some of the topics addressed in the workshop included how, who with and where to implement peering relationships; what type of traffic exchanges to use; how to analyze network traffic in order to make better interconnection decisions; where to register peering sites and polices; and best practices for using BGP for peering.
The tutorial was conducted by Arturo Servín (Google), Guillermo Cicileo(LACNIC), Carlos Martínez (LACNIC), Nicolás Antoniello (Antel), and Hans Reyes (CUDI).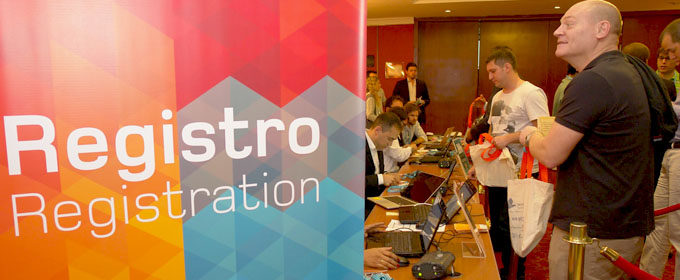 This Monday 28 September 2015, close to 300 attendees registered at the Hotel Crowne Plaza Tequendama to receive their materials and participate in six parallel tutorials. We would like to thank the participants from more than 26 countries throughout the region who are joining us in Colombia.
We invite you to read our daily recaps of the LACNIC 24-LACNOG15 meeting, available daily on the event's website (http://eventos.lacnic.net/lacnic24).
Forum for Incident Response and Security Teams (FIRST)
The third FIRST Symposium and Technical Colloquium organized in the region took place from 9:00 am to 6:00 pm. The meeting was geared towards FIRST members as well as non-members, and its main goal was to share information on vulnerabilities, incidents, tools and other topics affecting the operation of computer security incident response teams.
For more information, please see https://www.first.org/events/colloquia/bogota2015
Likewise, six technical tutorials were presented today at 9:00 am and 2:00 pm (UTC-5). More than 300 attendees participated in the following tutorials:
IPv6 Deployment in Fixed and Mobile Access Networks
Instructors: Ariel Weher (LACNOG), Tomas Lynch (IP Consultant), Jordi Palet (Consulintel)
This tutorial explained different technologies and techniques used by fixed and mobile last-mile access providers to deploy IPv6. Other topics were also presented, including dual stack vs. NAT vs. tunnels, and different methods for assigning and deploying IPv6 in fixed and mobile networks.
Testing v6
Instructors: Gustavo Guimerans, CES /Gerardo Rada, LACNIC / Laura Kaplan, LACNIC
LACNIC will offer its members and the Internet community in general Certiv6, a methodology for testing equipment and applications, as well as a course that will include both theory and practice.
This tutorial was an introduction to the full course. Participants worked on exercises illustrating real-life situations where a system operating on IPv6 malfunctions and the problem is solved by applying this methodology.
About the IETF
Instructors: Álvaro Retana, CISCO
This workshop addressed topics related to the IETF in general and the participation of people from our region. The workshop began with an overview of the IETF's functions and activities, including the organization's mission, structure and Working Group operation. Several technical talks were also presented on the work that is being carried out at the IETF and within academia. The workshop closed with a panel on the mechanics of IETF meetings and remote participation experiences.
IPv6 Monitoring
Instructors: Carlos Martínez, LACNIC / Santiago Aggio, CONICET - UTNFRBB /Pablo Cuello, Antel
This tutorial presented and overview of different ways to monitor both dual stack IPv4-IPv6 and IPv6-only networks. Protocols such as SNMP, Netflow, and others were analyzed, as well as other tools, which can be useful to monitor traffic, applications and services over IPv6.
Internet Numbering Resource Management
Instructors: Rodrigo Zambrana, LACNIC / Sergio Rojas, LACNIC
This tutorial was specifically designed for representatives of organizations that are already LACNIC members. During the tutorial, participants learned how to use LACNIC's Resource Management System, register sub-allocations to third parties, use the Whois service, update contact information for a block or an organization, and delegate a block's reverse resolution.
Also worth highlighting are some of the other meetings which will also be held this week by major organizations contributing towards regional Internet development, such as FIRST, LACTLD, the 2nd Colombian Internet Governance Forum, and the LAC-i-Roadshow.
The day ended with a session held in the Rojo Room, where LACNIC, LACNOG and the Public Policy Forum moderators welcomed more than 80 first-time participants and explained LACNIC event dynamics.