Daily Recap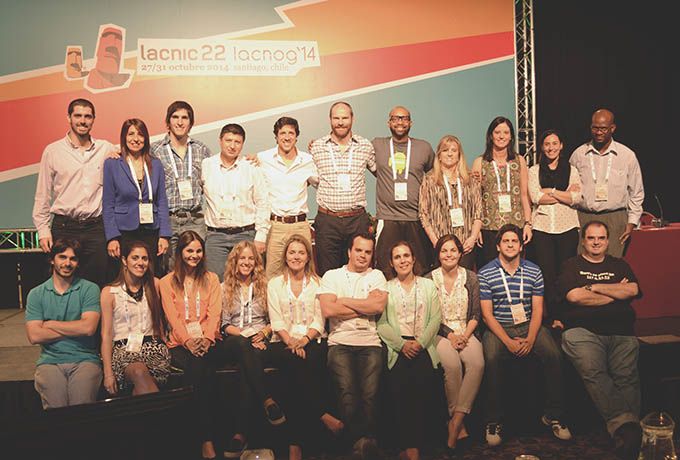 Thursday, October 30th kicked off in the Constitución Room with several presentations that were part of the Latin American and Caribbean Network Operators Forum (LACNOG) meeting's agenda.
The morning's presentations included:
Name Collisions – Gustavo Lozano, ICANN
Low-cost HSM for DNSSEC signature – Javier Bustos et al., NIC Chile Research Labs
Implementing DNSSEC validation at an ISP – The case of VTR - Pablo Jiménez, VTR Globalcom S.A.
Optimizing REACCIUN's core for continuity and quality of service – Gregorio Manzano, CENIT
BCOPs – Luis Balbinot/Pedro Torres, BCOP LACNOG

LACNOG presentations continued after a brief lunch break:
YouTube Video Quality Report – Alejandro Guzmán, Google
Seamless MPLS – Gianpietro Lavado, Cisco
Virtual CPE (vCPE) – Luis Palma, Alcatel-Lucent
eVPN Use Cases – Luis Palma, Alcatel-Lucent
Rethinking MPLS in the Data Center – Álvaro Retana, CISCO
Mapping of Address and Port (MAP), Hernán Contreras G., Cisco

The day's final activity included updates from each RIR, the NRO, the IANA, and the ASO AC, followed by a report on LACNIC activities and services presented by Carlos Martínez and Diego Mena.

Wednesday, October 29th began with the following parallel activities:
LAC-IX Meeting
LAC-IX, the Latin American and Caribbean Internet Exchange Point Operators Association, promotes networking in Latin America and the Caribbean. Its goals include increasing Internet traffic within the region and supporting governments in terms of policies, statistics, and advice relating to Internet traffic exchange. Today, the Association held a meeting in the Atacama Room from 9:00-12:30 (local Chile time).
LACNIC Public Policy Forum
This forum was moderated by Carlos Plasencia and included important presentations regarding potential updates to the policy development process. The first policy discussed at the forum (LAC-2014-2) proposes a modification to the text describing ASN allocation requirements. It was authored by Jorge Lam and seeks to clarify and simplify LACNIC's ASN assignment process. This proposal achieved consensus and will enter the last-call-for-comments period, after which the LACNIC Board will be able to ratify the policy.
The second policy discussed today (LAC-2014-3) seeks to update the Policy Development Process. It was authored by Ricardo Patara and seeks to establish terms and responsibilities for the process. It was decided that a new version of the proposal will be submitted excluding the text on a potential appeals process and sent back to the list for further comments.
Carlos Martinez, part of LACNIC's staff, then gave a presentation describing certain voids LACNIC has detected in the region's policies with the intention of encouraging the community to present new proposals aimed at eliminating these voids and cleansing the Policy Manual.
After the forum, there was a consultation session on the IANA functions' stewardship transition which was moderated by three community representatives: Jorge Villa, Rafael Ibarra and Esteban Lescano. For more information on this process, please visit: http://www.lacnic.net/web/lacnic/iana-transicion
The LACNOG opening ceremony took place in the afternoon in the Constitución Room. LACNOG, the Latin American and Caribbean Network Operators Group, is a forum aimed at discussing, sharing knowledge, and collaborating on issues directly relating to network operation.
Presenters included:
Alejandro Prince - Development of IXPs and their impact on the countries of the LAC region
Agustin Formoso - Simón - Determining Latin American and Caribbean connectivity through latency measurements
Ariel Sebastián - Analysis and differences between transit and IXP BGP announcements Mauricio Agudelo- Expanding regional infrastructure for interconnecting Internet traffic in Latin America
Agustín Speziale - Managing government agency requests on disabling access to content at an ISP
Carlos Martínez - Geolocalization: Current status, problems, and some future possibilities
Lacier Dias - Good practices for a healthy ASN
Doug Madory - 512K: First impacts
Julimar Lunguinho Mendes - PTT.br Report on the FIFA World Cup Brazil 2014
Wednesday came to a close with a social event at Hidalgo Castle.

Today, October 28th, at 9:00 (local Chile time), the Crowne Plaza Hotel Santiago welcomed the LACNIC 22-LACNOG14 opening ceremony, which was attended by more than 350 participants from around the region.
Present at the ceremony were Pedro Huichalaf, Chile's Undersecretary for Telecommunications; Ennio Vivaldi, Rector of Universidad de Chile; Oscar Messano, President of LACNIC's Board of Directors; Ricardo Patara, LACNOG Chair; and Patrocio Poblete, NIC Chile Director.
The Chilean Undersecretary for Telecommunications highlighted how important it is for government organizations to support regional IPv6 implementation and deployment.
After the opening ceremony, a cooperation agreement was signed between LACNIC and the Regional Technical Telecommunications Commission for Central America (COMTELCA). This Agreement will allow implementing joint actions for institutional and academic cooperation in research and community services that will contribute to a common approach to digital education for the use of information technologies, IPv6 deployment, the promotion of Internet exchange points, and greater regional participation in Internet governance issues.
Press release: http://nic.cl/anuncios/20141028-lacnic.html
LACNIC CEO Ernesto Majó then presented a general update on LACNIC, during which he addressed several issues such as the transition of the IANA functions' oversight, IPv4 exhaustion within the LAC region, and how the number of LACNIC members has grown.
At 10.30 am, Ernesto Majó moderated an introductory panel on the IANA functions' stewardship transition with the participation of relevant authorities such as Pablo Hinojosa (APNIC), John Curran (ARIN), Harmut Glaser (ASOC AC), Gonzalo Navarro (ICANN), Rodrigo de la Parra (ICANN), and Pedro Ivo Silva.
This panel summarized the Regional Consultation process on the transition of the IANA functions' oversight in Latin America and the Caribbean, in other regions, and the overall coordination process between the various Internet community stakeholders. The panel concluded by describing the final step of the process within the IGC.
Rodrigo de la Parra, ICANN Vice President for Latin America and the Caribbean, noted the importance of this meeting for the region and thanked LACNIC for including it in the event's agenda. He also invited participants to submit their comments and participate in the process.
Harmut Glaser highlighted how important it is for the IANA functions' stewardship transition to follow a set of principles.
John Curran, ARIN CEO, explained the entire consultation process, what the Consolidated RIR IANA Stewardship Proposal Team (CRISP Team) will do, and how all RIRs will be involved and should promote the participation of their communities.
For more information on the process and the CRISP Team, please visit: https://www.nro.net/nro-and-internet-governance/iana-oversight/consolidated-rir-iana-stewardship-proposal-team-crisp-team
The next activity scheduled for the day was the panel on "Strengthening Regional Internet Infrastructure." Made up by ICANN, AEPROVI, NIC.CL, LAC IX, and Dyn Research representatives, this panel covered topics such as BGP Routing-RPKI, DNSSEC, submarine cables, and traffic exchange points.
During the afternoon, participants attended the ION Conference, an event that brought together network engineers and industry experts for the purpose of discussing emerging technologies, including IPv6 and DNSSEC. ION conferences allow network operators to stay ahead of the learning curve and deploy emerging Internet technologies. It also provides a unique opportunity to discuss the future of the Internet with the people who helped create it.
Presenters included Álvaro Retana (CISCO), Chris Grundeman (Internet Society), Arturo Servín, Carlos Martínez (LACNIC), Jan Zorz (Internet Society), Rodrigo Arenas (NIC Chile), and Max Larson Henry.

This Monday, October 27th 2014, almost 300 participants attended the first day of the meeting and completed their registration at Universidad Católica de Chile, where they received their materials and participated in the five parallel tutorials included in the program. We would like to thank the participants from more than 28 countries throughout the region who joined us today in Santiago.
We invite you to read a recap of the activities completed each day during the LACNIC 22-LACNOG14 meeting, which will be available daily on the event's website (eventos.lacnic.net/lacnic22).
Forum for Incident Response and Security Teams (FIRST)
Designed for both FIRST members and guest attendees, the FIRST Symposium and Technical Colloquium was held from 9:00 am to 6:00 pm. FIRST Technical Symposia provide a forum for sharing information on vulnerabilities, incidents, tools and other topics affecting the operation of computer security incident response teams.
For more information, please visit http://www.first.org/events/colloquia/santiago2014/program
Six technical tutorials were presented today at 9:00. More than 200 participants attended these six tutorials, which are briefly described below.
General Introduction to IPv6
Alejandro Acosta and Jan Zorz presented a brief introduction to IPv6 implementation at the university's main lecture hall.
IPv6 in Mobile and Fixed Access Networks
Instructors: Santiago Aggio, Ariel Weher
This tutorial explained different technologies and techniques used by fixed and mobile last-mile access providers to deploy IPv6. Other topics were also discussed, including dual stack vs. NAT vs. tunnels, and different methods for IPv6 assignment and deployment in fixed and mobile networks, among others.
DNSSEC
Instructors: Eduardo Mercader, Mauricio Vergara, Gonzalo Romero
This tutorial was presented at Auditorium No. 2, where participants were introduced to the basics of DNSSEC and conducted hands-on activities that allowed them to become familiar with the operational aspects of this technology.
Internet Numbering Resource Management
Instructor: Gianina Pensky
This tutorial was designed for representatives of organizations that are already LACNIC members, who were able to learn how to use LACNIC's Resource Management System, register sub-allocations to third parties, use the Whois service, update a block's or an organization's contact information, and delegate a block's reverse resolution.
BGP Routing, RPKI, Anycast
This tutorial was divided into two sessions. During the first session, the basics of the BGP protocol were presented and basic operational aspects within carrier environments were discussed. The second session introduced some of the latest trends in routing security, particularly origin validation using resource certification (RPKI).
LAC IETF Forum
During this tutorial, various aspects of the IETF were described so that newcomers could understand how the IETF works. Considering that most of the IETF's work is conducted on the various working groups' mailing lists, participants were encouraged to become involved in the lists relating to their areas of expertise.
The first day at the lecture hall came to a close with a session where Ernesto Majó, LACNIC's Interim CEO, welcomed more than 80new participants and explained the dynamics of LACNIC meetings.
A partir del día 28 de octubre habrá traducción simultánea al portugués, español e inglés.