Kenneth Olmstead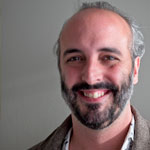 Kenneth (Kenny) Olmstead is a Senior Internet Security and Privacy Expert at the Internet Society. He writes and reviews technical content on encryption, privacy, and technology policy.
Prior to joining ISOC in December 2018, he spent 12 years at the Pew Research Center studying how the Internet has changed modern life. In that role, he researched myriad topics from how the Internet changed news & journalism, to Americans' cybersecurity habits, to privacy on Google's Android operating system.
Kenny set up a LAN in his childhood home to play video games with his younger brother and used Prodigy to access the early Internet. His passion for technology grew from there. He has a Master's Degree in Communications, Culture & Technology from Georgetown University and a B.A. in political science from Skidmore College.
@kennymco
Las sesiones se llevarán a cabo a través de la plataforma Zoom, y deberás tener creada una cuenta para participar.
Si aún no la tienes, puedes crearla aquí.